This photo looks like nothing more than a collection of toiletries. But me it's much more; to me, it signifies the beauty that is the bright imagination of my loony boys.
Last weekend, we took a little drip down to Philly to catch a college basketball game. We went down on Saturday morning and came back Sunday mid-day. The game took up about three hours of our time there. That meant that the rest of the time, we were left to our own devices. Despite our best efforts to convince them otherwise, the boys wanted to do nothing more with our free time than hang out in the hotel room. To them, this 20 x 20 box was the best part of the trip. Basketball schmasketball.
What amazed me was the fact that they were truly able to entertain themselves within the confines of this small space—without help of video games or the Disney channel. Amazingly, they came up with a number of fun-filled activities that kept them quite happy.
Enter the photo above. "Looting" is the name my ten-year old dubbed this particular game. Where he learned this word is beyond me. Anyhoo, with this fun little adventure, he (with his brother at his heels) went around the room collecting every possible hotel freebie imaginable—from the mouthwash, shampoo and soap you see above to sugar and creamer packets, coffee and even a shower cap. He collected these items and packed them up for home, just in case we'd need it all some day.
Next up: Hide & Seek. Wait. What? Hide & Seek? In a hotel room? Yes, that's right. And you'd be surprised how many hiding spaces exist in a room this size: the closet, the bathtub, under the sink, behind the curtains, under the desk and, of course, behind the chair in the corner.
Once they'd exhausted every hidden nook and cranny of the room, they took to the window to ponder the world outside.
We were fortunate to have a nice view of the city from the 23rd floor. The kids looked out at the world below asking life's greatest questions, like: If someone were to jump from this floor, could they use an umbrella as a parachute? (NO!) Where are all the houses? Do they have schools in Philadelphia? If I dropped a penny from this floor, would it break the windshield blow? Riveting stuff, here.
Last but not least: Soap carving. From his personal supply of toiletries, my ten-year-old grabbed a bar of soap and a pen (and a shower cap?) and started carving, with his brother gazing on in admiration and interest.
You see, he recently learned how to carve soap with a pocket knife on a camping trip with the Boy Scouts. He was trying replicate his efforts here… with a pen. Great fun.
With each activity, they were completely content with what they were doing in that moment. No "I'm bored!" No, "What can we do?" No, "What's on TV?"
Though I jest with sarcasm when I say things like "great fun" and "riveting," it really was great fun … and riveting. While my husband was entertaining himself with basketball on TV (can we say obsessed?), I was just relaxing—watching my two usually-restless boys reach into the depths of their minds to devise imaginative games that would keep them—and me—entertained for hours on end.
It's times like these when I am reminded that it's the little things in life … the simple things … the seemingly insignificant things … that create the ultimate beauty in my world.
This piece was in response to: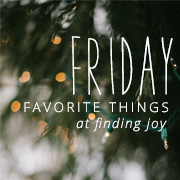 The purpose of this link-up is to encourage folks connect with stories about finding the little joys in everyday life. As soon as I came across this one, I knew I had to participate.
Related reading:
Try to appreciate
Teaching kids to be nice
I miss the Wiggles. Is that so wrong?